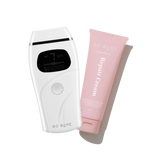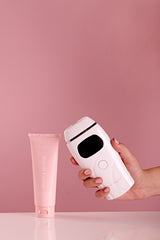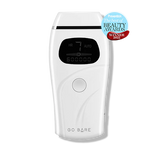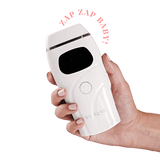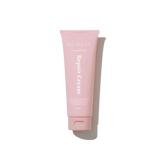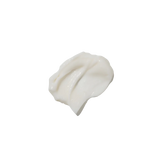 Introducing the Dynamic Duo Bundle: the ultimate hair removal besties that will revolutionize your hair removal game! Combine our IPL device and Repair Cream for a hair removal experience like no other. Smooth, hair-free skin awaits, accompanied by immediate relief and long-term care. 
IPL Hair Removal Device: Unleash the power of light pulses with our cutting-edge IPL device, your ticket to smoother, hair-free skin. Bid adieu to traditional hair removal methods as this device gently targets hair roots, sending them into a chill resting phase. Say hello to reduced hair growth in just 3 to 4 weeks! It's a superhero for natural dark blonde, brown, and black hair on various skin tones from pale white to dark brown. With 1-7 intensity levels and 2 application modes, it's your versatile beauty companion.
Worried about safety? Rest assured with our integrated safety system and lifetime display on the LCD screen. This device is a game-changer, offering 600,000 light flashes for a 20-year lifetime, suitable for both men and women. And don't forget the extras: UV protection sunglasses, a handy razor, and a user manual for seamless application.
 Repair Cream: Meet your skin's new BFF: the Repair Cream. After your IPL sessions or other hair removal adventures, this cooling, hydrating formula steps in as your skin's savior. Feel the instant relief as it soothes stressed skin, calming redness, itchiness, and discomfort. This non-sticky, lightweight cream is packed with skin-loving ingredients like niacinamide, cucumber oil, and licorice extract. Niacinamide brings its anti-inflammatory magic, leaving your skin fresh, supple, and hydrated. Meanwhile, cucumber oil and Lecigel cool and soothe without weighing you down, and licorice extract swiftly works to calm inflammation. Easy to use, just apply a pump or two directly onto the skin post-hair removal to quell any irritation. Repeat as needed for that long-lasting, nurturing touch.
Directions: 
Apply one pump on smaller areas or two pumps or larger areas directly to skin immediately after hair removal such as IPL, waxing or shaving to alleviate any heat or irritation. Repeat the application 2-3 times a day, or as needed, to help soothe the treated area.

What is in it?
Aqua, Glycerin, Caprylic/Capric Triglyceride, Sorbitan Olivate, Cetearyl Olivate, Niacinamide, Squalane, Sodium Acrylates Copolymer, Lecithin, Tocopherol, Helianthus Annuus (Sunflower) Seed Oil, Aloe Barbadensis (Aloe Vera) Leaf Juice, Allantoin, Glycyrrhiza Glabra (Licorice) Root Extract, Cucumis Sativus (Cucumber) Seed Oil, Citrus Aurantifolia (Lime) Oil, Citrus Aurantium Dulcis (Orange) Peel Oil, Citrus Aurantifolia (Lime) Oil, Citrus Bergamia (Bergamot) Peel Oil, Citrus Aurantifolia (Lime) Oil, Citrus Bergamia (Bergamot) Peel Oil, Juniperus Communis (Juniperberry) Fruit Oil, Hydroxyacetophenone, Phenoxyethanol, Sodium Hydroxide.
What's Included?
* IPL Hair Removal Handset
* Repair Cream
* UV protection sunglasses to protect eyes during usage
* Razor for hair removal before IPL application
* User Manual to guide you with your application